We're proud to feature quality local products from these small businesses:
BlueStar Barn Quilts are hand painted by talented NC artist Bonnie Gray. She uses both traditional and modern quilt square designs to create these beautiful wooden barn quilts for indoor and outdoor use. We carry 1x1ft and 2x2ft squares. Contact bluestarbarnquilts@gmail.com to inquire about custom order. 
Julie & Tracy have launched a small business specializing in Homemade Candles, Waxmelts, Bath Butter Soap, Car Freshners and more. They use high quality, local ingredients to make these one of a kind products. Visit April's Southern Charm on Facebook to see even more products.
"I create fused glass art. Some items are created using casting molds and some are slumped over or into other molds. Most glass fires at least 2 times with a top temperature of 1400 degrees." -Deb See more of Deb's latest creations on her Facebook page Deb's Fused Glass Designs.
She-Haul Custom Designs is a family-owned local business that uses super soft shirts and the best quality tumblers. We carry just a sampling of the hundreds of products they offer. Check out all their latest creations and order your own custom shirts, tumblers and more at She-Haul Custom Designs on Facebook.
1 in 6 Snacks- Carolina Kettle Chips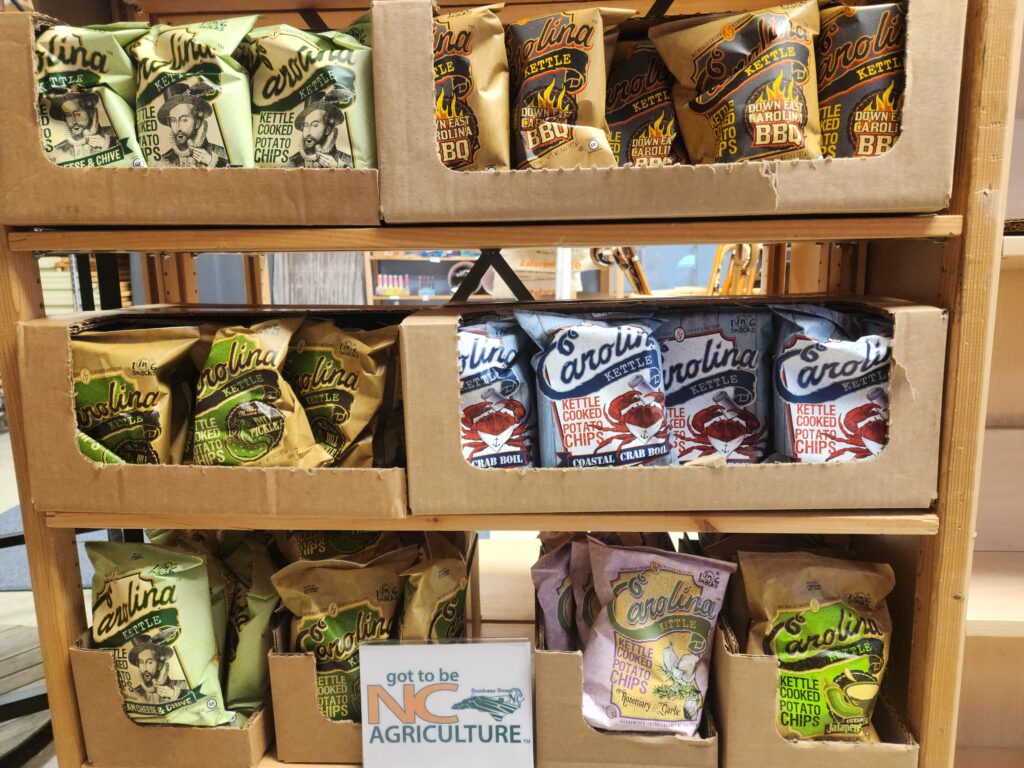 "For over 65 years, my family has been selling deliciously different snacks.  Now it's time to give back.  That's why we started 1in6 Snacks.  Our name stems from learning that when we started, 1 in 6 people in the United States did not know where their next meal would come from.  We recognized the need to find an easy (and delicious) way for people to help us give back. By purchasing a bag of our snacks, you automatically have just made a donation. With each bag sold, a portion of the proceeds are given back to a local Food Bank. Carolina Kettle Potato Chips are REAL small batch Kettle-Cooked chips. Each flavor was inspired by the unique tastes that make our home state of North Carolina so great. Naturally Crispy and Certified Awesome." Follow Carolina Kettle on Facebook.
"Our business adventure began in 2009 when I surprisingly realized that the super absorbent sponge cloths I used during my years growing up in Sweden were not a common commodity in US homes. After earning my business degree, I along with my husband and other family members, saw the opportunity to penetrate the US market with these unique, high-quality cloths. In just a few short years we have been met with an overwhelming response from retailers, as well as consumers – they all love our product! What makes the Wet-it cloths so impressive is their absorption and bio-degradable qualities. The fabric is a tried and true Swedish invention from the 1940s and is made of a perfect blend of high grade cotton and wood pulp. The idea behind the Wet-it is to eliminate or reduce the amount of paper towel waste. We upgraded the cloths with our in-house designer patterns. Our Wet-its are like a reusable paper towel that far outperforms any sponges, paper towels or microfiber cloths becasues they are efficient, resuable, eco-friendly, 100% biodegradable and stylish!" Mathilda Davies Read more at the Wet-it! Facebook Page.
I got into milk goats because I was drinking powdered milk and just couldn't take it anymore! I wanted the real deal. Without the acreage (or funds) for a cow, I ended up with two Lamancha does in milk. Much to my surprise, the milk really is much like cow milk in flavor! A lot of the milk's flavor is determined through proper handling (see management page), but there is always a certain amount decided by breed. That is one of many things that I never expected to agree with the Internet on. Now I never was big on goat milk (I have had really bad goat milk as a teenager), but hey it's gotta be better than powdered right? So I did lots of research and picked Lamanchas because they are known for sweet tasting milk, more like cow's milk than any of the Swiss breeds that were apparently bred for making (in my opinion) really bad tasting cheese.
Shortly after buying my first two does, my neighbor asked if she could get some goat milk. She said that she loves the stuff and hasn't had any for years. So I gave her a quart, and she loved it! And wanted more. Now I needed more goats because there was not enough milk left for me!
After that I ended up selling more and more milk, as well as trading milk for grazing permission for the girls on the different neighbors' lots. Soon I began getting requests for farm fresh brown eggs as well as milk, and I thought to myself, 'sure I'd like eggs.' In came the chickens!
Now I am living a very busy yet extremely relaxed life. I milk goats after breakfast, then go out shepherding the goats, then bring them back in for lunch and midday milking. Then I do the sheep & soap packing chores, and back out we go! Last I come in for dinner and night milking and start all over again the next day. My line of vegetable based True Goat Milk Soaps is ever expanding. I make the soaps the old-fashioned way using the cold process method. 
I use essential oils in my soaps for fragrance, not perfume, because Noelle is allergic to perfume oils.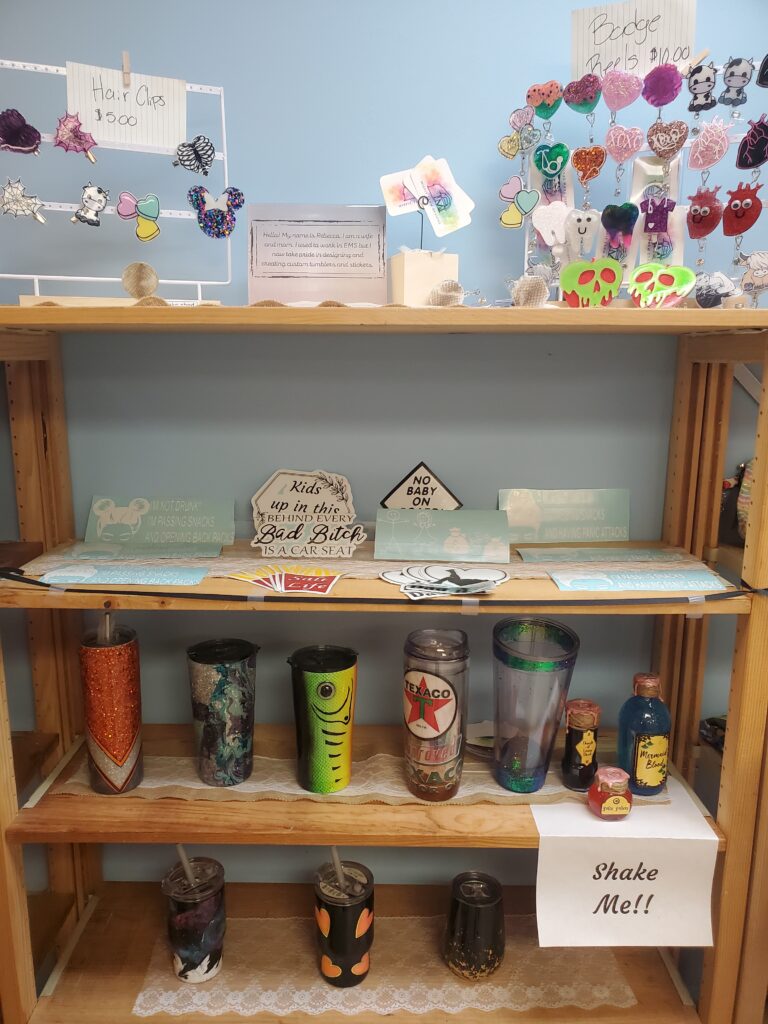 I got started making decals with my husband in 2015 and found I really enjoyed the process of designing and creating. A couple years later that transitioned into using the stickers to make custom tumblers as well. In recent months I have started making badge reels and hairbows. I love seeing how I can make someone's vision come to life and providing affordable unique creations. I offer several premade stickers, tumblers, badge reels and hairbows and I can also make things to order. You can contact me at (4) Misfit Farm Designs | Monroe NC | Facebook
We are a local family run business with my children contributing as well!! Our feature item is the infinity scarf with the secret pocket which is great for travel or every day wear. Our headbands are made from a soft material with some stretch for a more comfortable fit. Our products vary from wearable to functional and come in many themes and patterns. 
We are a family business! It is myself, my daughter and my sister. We live in Mineral Springs. We have been creating for 30+ years. We enjoy making many different things. It is a for of therapy for us as well. We will do special orders and we make one-of-a-kind items.
We established My Mugs & Kisses as a husband and wife team local to Waxhaw Combining hand -lettered calligraphy with college memories, we launched our college town mug collection. We hope our hand-lettered mugs help you give that new college graduate or loyal alum the perfect gift to show their school allegiance, or simply reminisce over a cup of coffee and relieve nostalgic memories.
We make custom orders of double walled tumblers and resin art. Our items are beautiful and functional. We offer a range of products including jars and trays with and without lids in a variety of colors and glitter. Also picture frames and decor as well as other custom pieces.
"Give 'em something to laugh about" are words to live by in our house. My father collected sayings his entire life and the "nut didn't fall far from the tree". We are a female owned family business, including Mom, Dad, Alexis, Erica and an occasional Margarita for inspiration. Wild Hare Designs started printing towels in 1997. We offer hundreds of witty sayings on award winning premium 100% cotton towels.
One of our goals here at The Gift Shop is to provide quality items for affordable pricing.  We like to have a variety of products that changes regularly to keep the store fresh and new. There is such a wide variety of items you are sure to find something that suits you.
I have a love for sewing and will try my hand at sewing just about anything from mask to memory. I also provide other useful items such as shelf sitters, reusable egg cartons and containers with personalized labels among many other wonderful products.
Are you looking for a unique gift or that special piece to complete your collection? We can help!! We offer a variety of antique items as well as jewelry, socks, candles and more.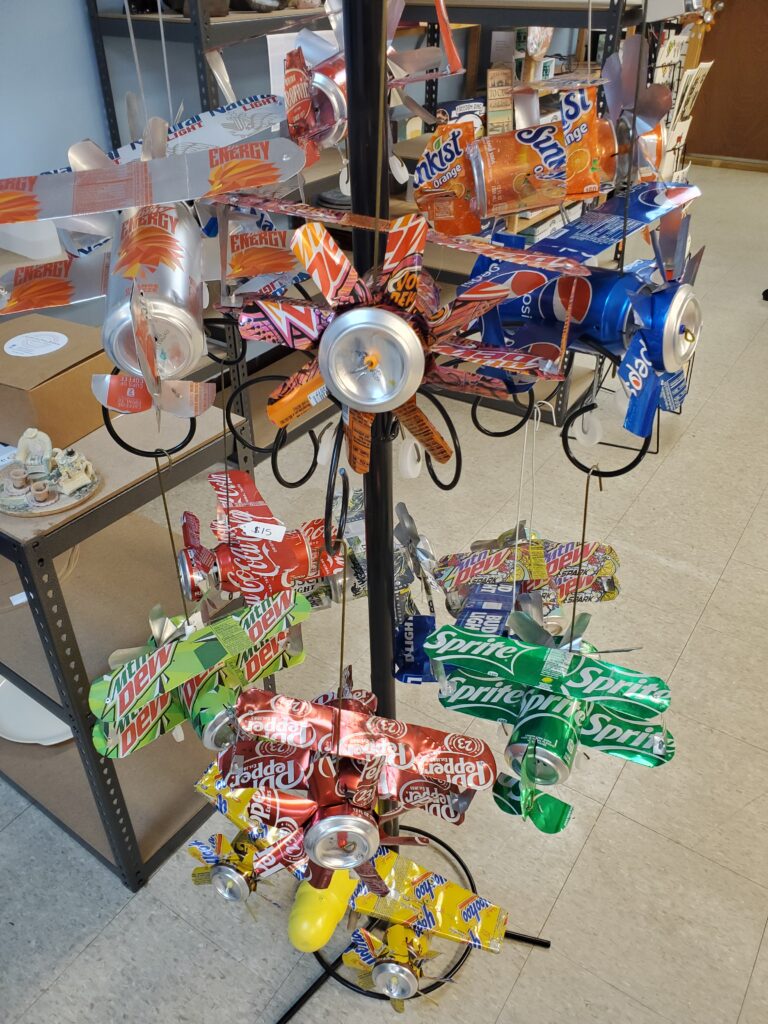 All my products are handmade. I offer multiple sizes of planes, boat and car made from aluminum drink cans. Each item is made with special care attention. I am a one man operation with a passion for working with my hands. 
Pellets are a unique for of natural wood. When pellets are made all of the air within the cellular structure of the wood is evacuated, thus concentrating the wood into a very dense form, much denser than the natural tree. As compared to other wood flavor enhancers, pellets will yield a more intense smoke more quickly which seals the food, locking in natural moisture and adding smoke flavor exactly when it's needed. BBQ Delights pellets are 100% wood, no chemicals, oils or other additives! Since pellets have been processed from saw dust which generates heat, any contaminants present in the wood are eliminated. This process produces sterile smoking wood product of consistent quality. Pellets are easy to use since you do not soak in water prior to use. It's easy to blend wood flavors with pellets and easily repeat successful cooking results.